Happenings around New England and beyond...
---
Next Tour... A LONG WAY AROUND THE WACHUSETT RESERVOIR


October 21, 2017

TOUR INFORMATION

  Our day will be taking us through the towns of Hudson, Stow, Princeton, Holden, Boylston, Clinton, and Bolton.  Total round trip around 57 miles. Plan on leaving Hudson at 9:00 am from Scotia Woodworking (John's warehouse), 571A Main Street, Hudson, MA.  Plenty of parking for trailers.  Coffee and donuts will be served at the Micro Car Museum.
  We will be starting our day with a tour of a Micro Car collection owned by Charles Gould in Hudson, MA (no admission fee). This collection was seen on American Pickers.  From there we will be touring some nice back roads of Massachusetts.  We will be driving all around the Wachusett Reservoir.  There will be several optional stops including Stewarts Chocolates, the Clinton Dam, and the Nashoba Valley Winery.  Our lunch will be at the Manor in West Boylston, MA (they will have something for everyone).  After lunch we will tour the Russian Icon Museum in Clinton, MA. (A $10.00 admission fee, $5.00 for children, $7.00 for Seniors)) This museum is dedicated gallery features special exhibitions ranging from contemporary Russian art to icons from other Orthodox cultures. It is the only museum in the USA dedicated to Russian icons, and the largest collection of icons outside of Russia.  Our last stop is for ice cream at New City Micro Creamery in Hudson, MA.  

Directions to 571A Main St., Hudson, MA
TAKE  ROUTE 495 NORTH OR SOUTH TO EXIT 26/ROUTE 62.  TAKE RIGHT AT THE BOTTOM OF THE RAMP, HEADING EAST ON ROUTE 62. FOLLOW ROUTE 62 EAST TO A ROTARY (DOWNTOWN HUDSON), GO TWO 3RDS AROUND THE ROTARY, STAYING ON ROUTE 62 EAST. YOU ARE NOW ON MAIN STREET IN HUDSON.  GO TO THE 4TH TRAFFIC LIGHT WHERE ROUTE 62 TAKES A LEFT, STAY STRAIGHT THERE ON MAIN STREET FOR TWO MILES.  571A WILL BE ON YOUR RIGHT (LARGE BEIGE BUILDING). PLEASE CALL OR E-MAIL BY OCTOBER 15TH TO LET US KNOW IF YOU ARE COMING.

 LAURA AND JOHN WALSH (978) 562-6623   PA1917@AOL.COM


---
Who or what is an Autoneer?

The first use of the term is found in the "Overland Monthly" from 1902. It is a contraction of the words "automobile" and "pioneer" and was used to describe those indefatigable folks who first took to the paths and byways of America in their new form of transportation. Today, this anachronistic term is revived by an enthusiastic band of New Englanders who pay homage to those who have gone before. The group that calls itself the Autoneers is a collection of car folks who enjoy driving their brass cars and showing the world what automotive transport was like in the early days. The Autoneers was first organized in 1980 and held our first tour in September of that year. In 1990 we joined forces with the Horseless Carriage Club of America by becoming their New England Regional group. We conduct at least 6 events (tours) each year and also host other events for the HCCA. Our outings range from 1 day tours, weekend happenings and even week long events. Our tours are limited to non-modified vehicles built in 1914 or before, and other vehicles through 1916 that retain the hallmark characteristics of the brass era such as Ford cars. These tours offer a wonderful way to enjoy the back roads and country lanes of New England and share their love of these antiquated vehicles with all the folks we encounter.

---
Membership
HCCA membership is required of all Autoneer touring members. Prospective members and guests are encouraged to attend.

Have a brass car and want to join us? Click Here

---
Running a Tour for the Autoneers (or others)?

Here are some printable documents that might be helpful if you need to pull a tour together.
Click One day tour for an essay on running a one day activity.
Click Multi day tour for a formal layout of a multi-day activity.
Click Participation for the essential list of attendees for our records.

---
Show your Colors proudly!
Available to our membership only for the unbelievable price of only $10 is this solid brass personalized name badge.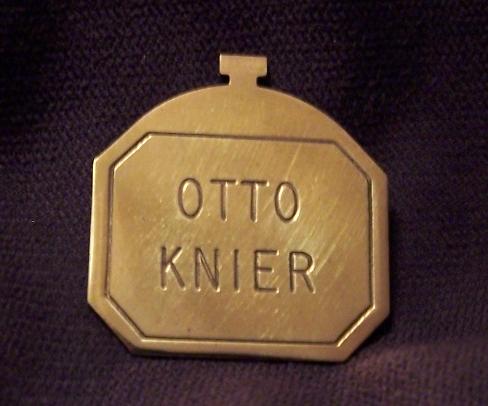 This custom product is NOT available in stores!!!
Operators are standing by...
Email: or phone (508)842-8250 for details.
---
Club members are encouraged to keep this website up to date. Please email any suggestions to your
---